White Paper
AI In Action: The Journey of a Property Across the Policy Lifecycle
Trampoline detected. Patio extended. New vehicle identified.
This white paper tells the story of AI (a software robot) and Mike (a real person with a real home) and demonstrates how artificial intelligence can reveal key insights about a property throughout the policy lifecycle.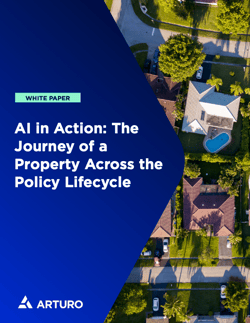 Decide with intelligence. Decide with Arturo.
"Our partnership with Arturo allows our underwriting team to further evaluate specific properties and make real-time decisions. Their use of aerial imagery provides a more robust view of property risk than other larger scale data providers who focus solely on records data."
"Arturo definitely helps provide faster notification to the customer's claim. It will improve our assessment time which is of great value to loyal customers."
"Previously, we'd spend half an hour searching for properties. This time is now spent on value adding activities."
"Arturo allows us to identify customer safety issues. We can see what a home is made of and identify potential risks that the customers may be exposed to."
"Arturo will play a big role in identifying and reducing fraudulent claims. The ability to identify pre-existing issues will save money on claims in the future."